Planning an outing along the Rideau Trail?
Whether you're hiking with friends & family, by yourself or as part of a group outing organized by the Rideau Trail Association, the key point to remember is being prepared. Dress for the weather and be sure to bring enough food and water.
Check out the RT Trail Alerts page and Environment Canada's weather forecast before heading out. You might also want to look at the latest air quality report, which is available for Ottawa and Kingston.
For a Typical Hike
Bring lunch, water, sunscreen and insect protection where required.
Wear strong footwear and come prepared for weather changes.
For Rideau Trail Association group outings, consider the level of the hike and if in doubt about your physical capability, speak to the hike leader listed in our printed or email newsletter well in advance of the day of the planned hiking event. If you aren't an RTA member, email us at info@rideautrail.org.
Winter Hiking
Understand the causes, preventive measures and treatment for hypothermia;
Dress appropriately (in layers), bring lunch and water and be prepared for unforeseen delays on the trail;
Understand that changes in weather and snow conditions can affect the difficulty level of a trail;
Have experience on and be familiar with their own equipment;
For skiers, be able to perform at least the basic diagonal stride, snowplow and herringbone manoeuvres with confidence under a variety of snow conditions.
Responsible Behaviour on the Trail
There are a number of responsibilities that an outing participant must undertake to adhere to when participating in any group activity with the RTA.
A Hiker Must Be Responsible:
For their own welfare and good behaviour, and
For respecting the land they're travelling through, whether public or private.
Continued access to private and public land by the RTA depends on careful and considerate use of these lands.
Hiker's Responsibilities on the Trail
Hikers are expected to respect the environment they pass through as they experience nature's beauty during their time in the outdoors and observe the following code:
Hike only along marked routes – do not leave the Trail.
Use stiles to climb fences & close gates after you.
Camp only at designated campsites and obtain camping permits where required.
Light fires only in campsite fireplaces – carry a lightweight stove.
Leave the Trail cleaner than you found it – pack out your own and others' garbage.
Leave flowers and plants for others to enjoy.
In many portions of the trail dogs are not permitted! (dogs are not permitted on official Rideau Trail Association hikes). Where dogs are permitted, keep them on a leash.
Keep wildlife wild. Protect and do not disturb wildlife.
Use the Trail at your own risk.
Do not ride motorcycles on the Trail. Very few areas are permitted for trail bikes & horses.
Practice Leave No Trace Principles. Leave only your thanks – take nothing but photographs.
Hikers are expected to respect private property when parking. Sections of the Rideau Trail pass through private property, and our relationship with landowners is very important to the continued success of the trail. Park in designated parking areas whenever possible. If no public parking is available, please be respectful when parking on private property and do not impede access to driveways or the landowner's access in any way.
Group Outing Preparation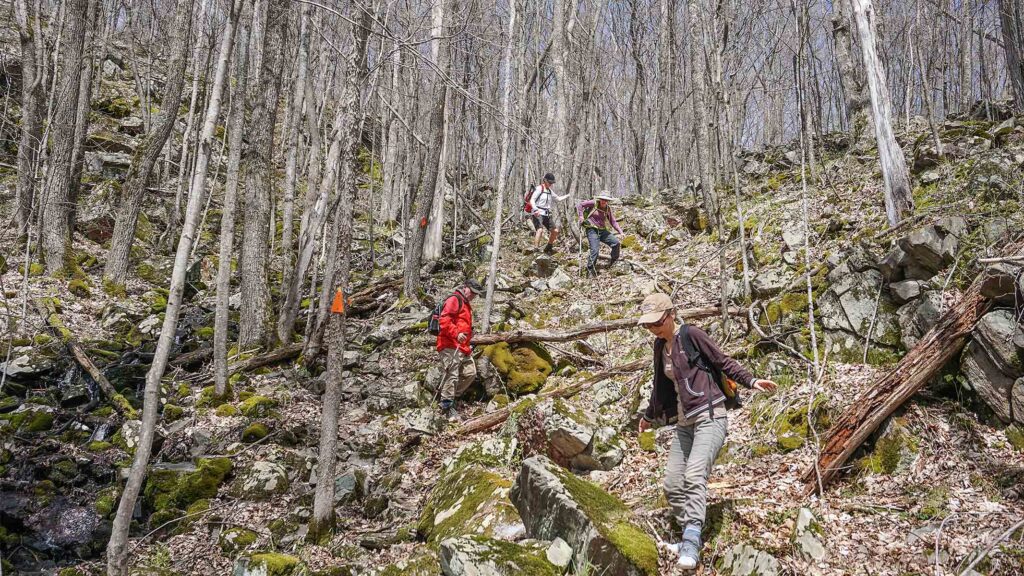 Carpooling
Carpooling is organized at each of the meeting places. Passengers travelling with drivers share the cost of gas to the amount specified for each hike in the newsletter. For some hikes that include entry to a conservation area or provincial park, an additional fee is required and is shared among the car occupants.
Personal Responsibilities During Group Outings:
Participants must choose activities suitable to their physical capabilities and skill levels.
They must inform the leader before the start of a hike about any health problems they have and any difficulties with their equipment.
They must respect the leader's judgment and their own financial obligations for the activity.
Parents and guardians must supervise their own children.
Personal Fitness Requirements
The various outings organized for members' enjoyment require a certain degree of physical fitness. In order to inform everyone in advance of the relative difficulty of any particular activity, each organized hike includes a rating (1, 2, or 3) in RTA's print and email newsletters. Prospective participants must be familiar with these ratings before an outing. They are described below for the most common outings that you'll see in our newsletter.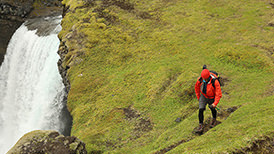 Outing/Hike Levels and Descriptions
There are many factors that influence how difficult/enjoyable a given outing (any kind of RTA activity) may be and potential participants require information to correctly select those that match their desires. To assist potential participants, the RTA has come up with a two-part system, the first is an outing level rating (though primarily geared to hikes, it can be applied to any other RTA activities in whichever season) and the second is a detailed description of the outing in the RTA Activities Calendar.
Factors determining the level of difficulty
Key factors include distance, type of terrain that will be encountered (including difficulty of footing and consequences of incorrect footings), number and extent of changes in elevation, weather, type of environment (wooded but open, wooded with canopy providing sun protection, city, mixed, remote, etc), intended speed of travel and intended frequency of breaks. Many of these factors are known at the time that the hike/activity is first posted, while some others (such as weather) may not be as certain.
The intended purpose of the Hike/Activity Level Rating is to provide sufficient information to potential participants to decide if they wish to examine the offered hike/activity in more detail. The Hike/Activity Description should contain all other pertinent information.
The primary characteristics that determine the suitability of an outing for a participant are the effort required, the technical challenge, the speed/constancy of the outing and the distance. The distance involved factors into both the effort required and can be magnified by technical challenges, but by itself is not the best overall indicator of what to expect. For that reason, distance has been left out of the Hike/Activity Level Rating -but will always be part of the Hike/Activity description.
Levels and Descriptions
To help provide a consistent definition of outing difficulty and minimize misunderstandings between leaders and participants we classify the effort, technical challenge, and speed of outings as well as providing the approximate distance that will be covered and optionally the speed of travel. The definitions for these classifications are given below in the context of walking, but should be interpreted in light of the activity involved (e.g. breaking trail on level ground while snowshoeing may be equivalent effort to climbing steep hills while hiking, depending on snow conditions).
Effort Intensity
Low: similar to walking a fairly level gravel path
Moderate: similar to walking a hilly forest trail
High: similar to walking a very hilly forest trail with occasional steep ascents and descents (like 10 minute periods of unbroken brisk stair climbing)
Very High: similar to walking a very hilly forest trail with frequent steep ascents and descents (like cycles of 10 minutes brisk stair climbing, 5 minutes walking hilly forest trail, 10 minutes stair climbing, etc)
Technical Challenge
Low: similar to walking on uneven surfaces
Moderate: similar to a creek crossing on dry rocks, or to careful footing required on ascents and descents, several occurrences during the outing
High: similar to a creek crossing on wet slippery rocks, or to unstable footing on steep ascents and descents, many occurrences during the outing
Very High: use of hands may be required, good balance and strength required, many occurrences during the outing
Pace Intensity
Low: pace is relaxed and adapted to the participants
Moderate: pace is steady with periodic breaks and allowance for unplanned breaks
High: pace is fast with breaks only at pre-planned destinations determined by the leader
In addition to these classifications, an overall outing level is provided as a general indication of how difficult the outing will be. This outing level will usually be based on the classifications of the characteristics above, using the guideline below. However in some cases hike leaders may adjust the overall level somewhat based on other factors outside the norm like exceptionally long or short distances, very fast or very slow speeds, expected weather, remoteness, etc.
Level 1. All three parameters are "Low" or up to one parameter may be moderate. This is the least difficult of outing.
Level 2. At least two parameters are "Moderate" and no more than one parameter is "High". An outing of mid-range difficulty.
Level 3. At least two parameters are "High" or at least one parameter is "Very High". The most difficult type of outing.
Cycling Activity Levels
Few hills, broad roads or bike paths, little traffic.
Some hills, narrower roads, some traffic; participants should be fit and be experienced cyclists.
Long hills, narrow roads; excellent fitness and good cycling skills required.
Cross Country Skiing Activity Levels
Flat terrain or gentle hills.
Variable terrain, some steep hills. Level 1 experience needed (Green and Blue trails in the Gatineau Park).
Long, varied terrain, may be off trails. Level 2 experience essential (Black trails in the Gatineau Park).
Outing Opportunities
While the majority of outings are hikes, the RTA supports the organization and conduct of most outdoor, self propelled, activities. There are numerous ongoing challenges throughout the seasons, with badges for completion, and additional challenges are offered fairly regularly. Each club has outings coordinators and a number of qualified leaders. If you have an interest in a particular activity, and are willing to assist, let your coordinator know and it will certainly be considered.
If you are not yet a member and would like to go on a couple of outings prior to making a full commitment, then contact your Executive and they can assist in making arrangements for you to go on a couple of outings.